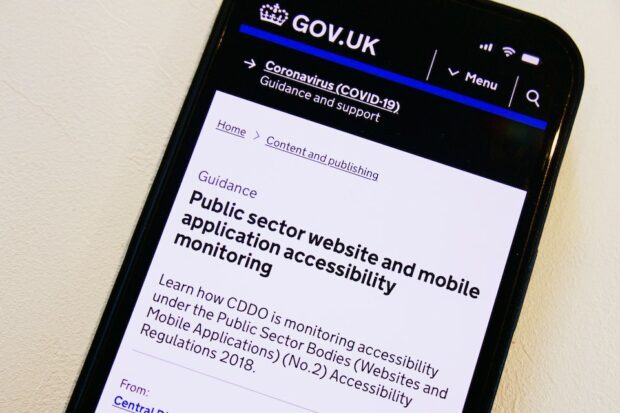 Today we're publishing a report on what we have found from the last 2 years of monitoring public sector websites and mobile apps for accessibility.
Having accessible websites and apps is vital for 14.1 million disabled people in the UK, but it also means that sites work better for everyone and on all devices. Public sector websites and mobile apps have to be accessible by law.
We started monitoring just before the pandemic started, and we can see that it has affected the whole of the public sector. Digital and publishing teams have been stretched, and some long term projects, such as meeting the accessibility regulations by replacing websites or PDFs have sometimes been slowed down or stopped. At the same time, accessible information and services on public sector websites became more vital, as this is where up-to-date information could be found, and in some cases online became the only way to access services.
What we've found
We've seen over 90% of websites publish an accessibility statement, which shows there's good knowledge of the accessibility regulations in the public sector, and organisations are working to meet them.
We have monitored websites across the public sector, but overall we have monitored more central Government websites (that are not on GOV.UK) and local Government sites. We haven't seen these sectors be more or less accessible, but we have noticed a few interesting differences in errors - central Government sites can have more reflow issues (where sites don't reorganise content when shown on a small screen), which we think is because the sites tend to be older and have not been designed with mobile use in mind. Local Government has more colour contrast issues, which we suspect is due to using corporate branding colours in text and backgrounds, which you can't guarantee is accessible.
Stay accessible
It's now over a year since many organisations have published their accessibility statement, and we're seeing them become out of date. In particular, many have dates for when fixes for accessibility issues will happen, but these are sometimes now in the past. This makes it difficult for a user to understand if they'll encounter any problems with the site. Organisations should review their statements yearly, and note when the statement was last reviewed.
Thank you to the public sector teams we have monitored, and to the entire public sector that is working hard to make and keep their websites and apps accessible.