In my first blog post, What we mean when we talk about accessibility, I said that it is common for people to have a narrow understanding of accessibility. It is not just about ensuring that someone blind can use your service. You need to consider the access needs of other people before you can confidently say that your service is accessible.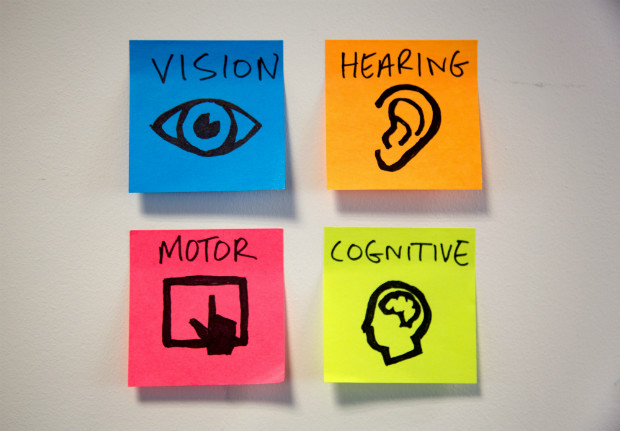 Everyone is different
People have different sensory, cognitive and physical abilities. All too often things are built for the fictional average person. Someone who has perfect vision and hearing, who uses a mouse or touch screen and has good basic literacy.
Very few people are like this, especially when you take into account that a person's ability changes in different situations. For example, when using a mobile phone in bright daylight, the screen can become harder to see because of the reduced level of contrast. In a busy room, it can be difficult to hear because of the increased background noise. When some people are tired or stressed, information can be harder to understand.

Range of access needs
You must aim to meet the needs of everyone and ensure that someone who has a disability is not excluded.
Here are a bunch of access needs you need to consider:
Example of people with visual impairments
I am colorblind and cannot perceive the difference between some colours
I have low vision and need to increase the text size in my browser
I have low vision and need to use a screen magnifier to make things bigger and cannot read text that has poor contrast
I am blind and use a screenreader
I am deafblind and use a braille device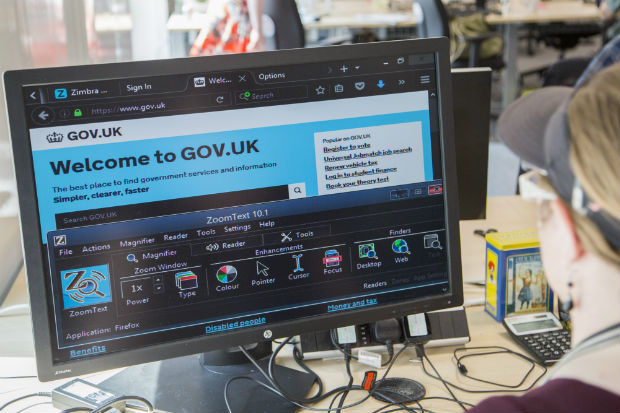 Example of people with auditory impairment
I am hard of hearing and struggle to hear most things
I am Deaf; British Sign Language is my first language and I find English hard to read and write
Example of people with motor impairments
I have a mild motor impairment so struggle to use a mouse with fine control
I have a medium motor impairment so have to use a keyboard
I have a severe motor impairment and am unable to use a mouse or keyboard so use speech recognition software
I have a severe motor impairment and speech impediment and use a switch device
Example of people with cognitive impairments
I have dyslexia and struggle to process written text
I am on the autistic spectrum and have a literal understanding of text
I have Attention deficit hyperactivity disorder (ADHD) and find it hard to concentrate
I have a learning difficulty and need thing to be simple and easy to understand
my memory is not as good as it used to be and I get easily confused
Example of people with speech impairments
I have a speech impediment and struggle to communicate by speech, I am much more confident and effective when using text based communication
Example of people with seizure disorders
I have epilepsy and my seizures can be triggered by flashing content
Can these people use your website unsupported? Can they use your call centre, or your face to face support sites? Can they use your paper forms?
Assisted digital
Not everyone will be able to use your service unsupported. Some people who lack the digital skills, trust, confidence, kit and/or connectivity to use online services independently. These people need someone to help them, so they can also benefit from new digital services. We call this help assisted digital support. This is covered by the service standard. Many services are already delivering excellent assisted digital support.
Bottom line
Until you consider the needs of the range of people that will be using your service you can't confirm that you are not excluding people. You also won't be making the cost savings that digital services can provide as you will be forcing some people to use more expensive alternate channels.
Follow Alistair on Twitter and don't forget to sign up for email alerts.