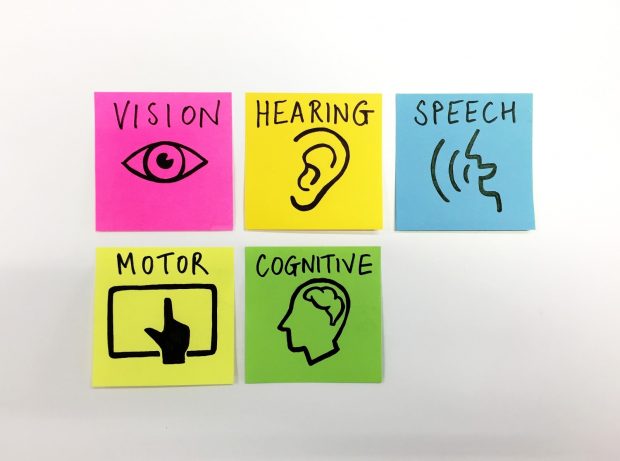 On 25 November, Government Digital Service (GDS) held the first entirely virtual cross-government accessibility meetup with over 170 attendees. This is a regular event run by the GDS Accessibility team, where individuals working within accessibility from across the country come together to discuss work, share learning, recent achievements and network.
Accessibility at GDS
Richard Morton, Head of Accessibility at GDS, provided an update. For the past year, the GDS Accessibility team has been working on raising awareness of the new Accessibility Regulations that came into place on 23 September 2020. This was the deadline for all public body websites to become compliant and publish an accessibility statement.
In the run up to the deadline, GDS hosted the Global Accessibility Awareness Day (GAAD) event, which was one of the most successful GDS events this year.
Now that the deadline has passed, the Accessibility team, alongside Cabinet Office, have been hard at work creating guidance and training for government communicators. There is still more work to be done but GDS is making great progress towards the mobile application deadline on 23 June 2021.
Embedding best practice in Welsh and Scottish Government
William Rees, the Digital Accessibility Lead for Welsh Government, gave an update on their strategic approach to accessibility, summarised in the following actions:
Stemming the flow of inaccessible information by ensuring all newly published materials meet the new standards
Fixing the backlog by working with website managers who publish materials on GOV.Wales and other Welsh Government sites
Reducing the number of PDFs published online by encouraging the use of HTML pages to present information
Embedding accessibility best practice at all levels of the organisation, raising awareness and building skills via bite-size sessions and online learning
Making accessibility help and information more readily available within Welsh Government
Kevin White, the Head of Accessibility for Scottish Government, provided an update on their approach of changing the PDF-first policy to become HTML-first. Kevin also outlined the work being done with policy teams to guide people through this process in order to make it as seamless as possible.
Auditing at scale
Our next speakers were George Papatzanis, Angela Cockburn and Adam Liptrot who work in HM Revenue and Customs' (HMRC) Digital Inclusion, Accessibility and Standards team.
George gave a talk on the future vision of HMRC with the focus of providing inclusive, accessible and usable services and tools for users both internally and externally. Over the last year, the team has been focusing on many aspects including creating an accessibility empathy hub and implementing an audit team in house.
Angela manages the arrangement of accessibility audits and provided insight into the audit process. At the beginning of the year HMRC decided that they would carry out more accessibility audits in house. Angela described how they carried out this work at pace and implemented new and improved ways of working
Adam Liptrot provided an update of how the team ensures that the audits are produced smoothly. He also shared the ways they support teams, including producing self-guided modules showing them how to test their services with assistive technology. You can find out more about this in Adam's recent post on this blog.
How to discuss accessibility with your teams
In the UK there is a large accessibility skill gap. Few universities teach about accessibility or embed the principles into their work, and as a result workplace learning has become more important than ever. As part of this, the University of Southampton is researching how accessibility practices can best be taught and learned. Dr Sarah Lewthwaite, Senior Research Fellow, shared findings from the project along with action points for individuals and teams to build capacity.
The research is building an evidence base for teaching using real life case studies and expert panel interviews. Findings are applied to see how research can make a difference through resources and training material, to develop the most common base knowledge of accessibility. The research is open access and published on a rolling basis on the Teaching Accessibility website.
Alternative text
Anika Henke, Senior Accessibility Specialist at GDS, gave a talk on alternative text, otherwise known as alt-text. This describes the meaning of non-text content, for example a photo. This is used for people who cannot see or understand the image without the text.
Typically most people associate alt-text with people needing screen readers, however it is important for everyone. If, for example, an image fails to load due to connectivity issues, alt-text can help you understand what the image is supposed to mean, therefore benefiting everyone. Advice on implementing alt-text can be found on the GOV.UK Design System.
User-focused accessibility
The next speakers were David Caldwell, Head of Accessibility, and Yacoob Woozeer, Senior Consultant, at the Home Office. David gave an update on issues with how delivery teams interpret accessibility guidance. David aimed to change the narrative so that the drive for accessibility within teams is shifted from just complying with guidance to providing workable solutions to those with disabilities.
Yacoob spoke on what is meant by 'compliant'. WCAG guidance is not a tick-box exercise where everything needs to be signed off in order to pass - it needs to be looked at holistically. The team worked with developers and users with accessibility needs, implementing user research in order to make sure that they had the most inclusive service possible.
Creating an Accessibility Empathy Lab
Laurence Fleming, Service Development Officer at Southwark Council, gave a talk on the creation of an accessibility empathy lab and what purpose it served. The team at Southwark Council had 5 main areas that they wanted to resolve:
understanding the customer journey for people with disabilities
improving web accessibility awareness
improving the accessibility and usability of their services
making web services available to everyone
engaging people who are new to accessibility
The solution to this was to create a lab based on the Accessibility Empathy Lab at GDS. Through this they were able to simulate conditions such as impaired vision, motor difficulties, cognitive impairments or learning disabilities and deafness or impaired hearing.
Due to COVID-19, staff were unable to return to the office. Southwark Council had to find a new way of working, and as a result they created a virtual empathy lab.
Come to our next meetup