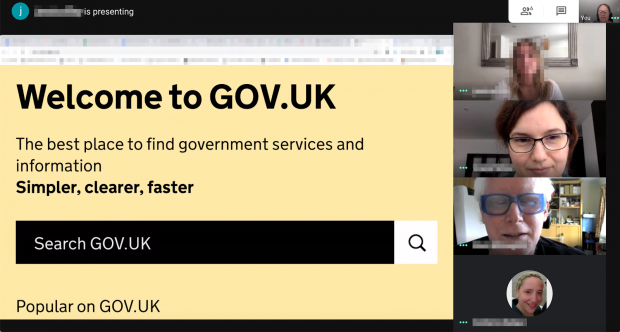 We have found there is not enough awareness about the different experiences and diverse access needs our users have. We want to highlight barriers that people encounter when using digital services. That's why we, the Accessibility Team at the Government Digital Service (GDS), have created accessibility personas.
When we wrote about how we made our accessibility empathy lab virtual, we mentioned that we have been successfully running remote accessibility persona testing with service teams. The sessions have been so successful that we are running them more often and with more teams.
We run the sessions by asking members of the team to select a persona profile and install it on their laptops before the remote test begins. Those profiles then run different simulations and assistive technologies. If they are set up beforehand, you can create a much shorter list of instructions by only using those instructions that say "once per device". Those can then be used to set the shared profiles up more quickly.
The team interacts with the prototype or service and completes tasks. These tasks should ideally be set up by the team's user researcher. They then make notes of any issues that they encounter. At the end each member of the team presents their findings by sharing their screen.
We recommend you involve an accessibility specialist when running remote accessibility persona testing. They will be able to help interpret the issues identified by the team. This is because some issues arise from not being familiar with the tools or what their limitations are.
We found conducting persona testing has a lot of benefits:
it's more engaging than an audit report
it's always best to learn by experiencing something yourself
it involves the whole team
it helps testing for accessibility issues early on
it works well even when team members have no accessibility knowledge
it also helps finding usability issues because it helps people look at things in a different way
it raises awareness and understanding
it helps to think from the perspective of a persona even after the session ends
Conducting persona testing remotely has even more benefits:
you can accommodate many more people than fit into the lab
collecting findings is more efficient by asking all members to edit the same document
sharing findings is much more engaging as each member of the team gets the chance to share their screen to show the issues and talk about what they learnt
it is very easy to reuse the persona profiles any time once everyone has installed them
There are also some disadvantages:
the remote setup is browser-based, so you cannot test anything outside of the browser
you cannot use more common and reliable versions of assistive technology if they aren't browser-based; for example, the remote setup uses the ChromeVox extension as a screen reader and not something more common like NVDA
the sight-impaired persona, Claudia, usually uses a screen magnifier, but in the browser-based setup she has to zoom into the page; this is also valuable but not the same experience
When using the accessibility persona testing you should be aware that it is not a substitute for testing with real users. You can still conduct user research with people with access needs while remote. A simulation is never a true representation of an impairment. Accessibility persona testing is also not appropriate for testing the compatibility of assistive technologies, browsers and services.
All government departments have users who have access needs. Running accessibility persona testing is one tool in our accessibility toolbox you can adopt to help understand your users and improve your services. It doesn't cost anything - you only need to be able to install Chrome extensions. There is also no need to visit GDS's accessibility empathy lab, as it can be done anywhere.
As remote working becomes more commonplace as a way of working we're keen to learn more about these challenges, and about how user researchers can best respond to them. So we would like to hear from you: if you have any tips on how to run research with people with access needs remotely let us know in the comments below.