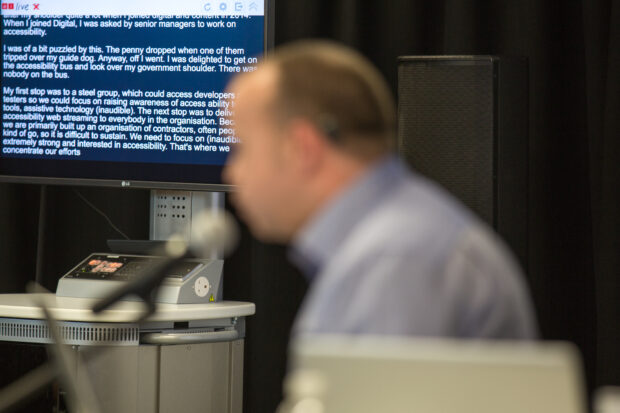 Accessibility means making sure there are no barriers that might prevent someone from accessing or using something.
Accessibility should be a part of everything we make and deliver. This includes events and presentations.
Events and presentations are a great way of showing new work, sharing learnings and helping people to build capability. So we need to make sure that no one is excluded from them.
If you're running an event or giving a presentation, here are some things you can do to make sure they are as accessible as possible.
If you're running an event
Before the event
check whether any attendees and speakers need anything to be able to participate in the event – you could add some text to the invitation or the registration page asking: "Is there anything we can do to enable you to be able to fully participate in this event?"

check that the venue is accessible – it should be wheelchair accessible and any stairs may need rails

consider live captioning – having live captioning can make sure people with hearing impairments can access the event; it will also mean you will have a transcript at the end of the event – live captions cost roughly £110 an hour

make sure that the venue has a hearing loop and that you know how to connect the sound system to it
On the day
check the hearing loop and make sure that the audience has joining details for it

make sure that you can control and adjust the lighting if necessary

make sure you have a second and even third microphone with runners for getting audience questions
Making things accessible for your speakers
Bear in mind that speakers might have accessibility requirements too. Here are some things to consider:
any staging may need to be wheelchair accessible

any steps may need rails

lecterns and microphone stands should ideally be height-adjustable, and this should be easy to do as it may need to be switched between speakers
Making things accessible for remote audiences
If you have a remote audience dialling in to the event then you need to ensure that the event is accessible for them too. Here are some ways to do that:
test the setup in advance and make sure there is internet connectivity

make sure that the camera feed has both the speaker and the slides in shot, and make sure the speaker is not standing in the way of the slides

consider sharing slides directly to the web feed – this will give the clearest view but of course will mean remote participants can't see the speaker's face or gestures

ensure remote participants can submit questions and take part fully in Q&As and feedback
If you're giving a presentation
When you're writing the presentation
Make sure that your slides are clear and easy to read. At GDS, we've designed our slides template to be as accessible as possible. There are a few things to take into account:
make sure there is a good contrast between text colours and background colours – our slides use black on a grey background or white on a dark blue background

avoid white backgrounds because of glare – this is why we use a grey background for black text

if you are using text over an image, make sure the image is dark enough to ensure contrast and simple enough not to distract from the text

use large type sizes and keep the typeface simple – we use Helvetica Neue at 32pt or 63pt
Using videos
If you're using a video as part of your presentation, there are a few things to think about to make sure it is as accessible as possible:
ensure that all videos have captions – these should be clear and large enough to see from the back of a large room

ensure that any visual content in the video is described in the audio – if it isn't, then you should describe it to the audience yourself

check video sound levels in the room before the live presentation
When you're presenting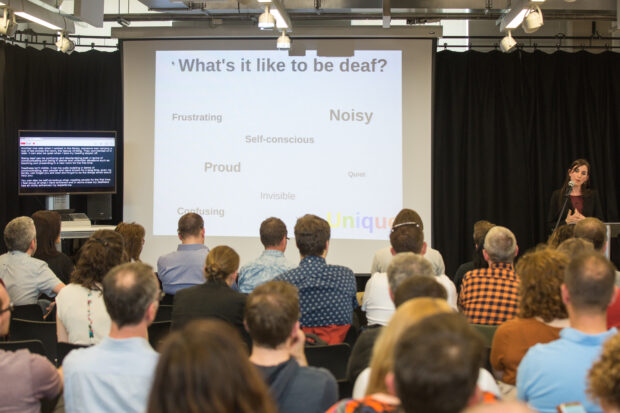 There are a few things to think about when you're giving your presentation. This advice will help make your presentation more accessible. It will also make it easier for everyone in the audience to follow your presentation – whether or not they have access needs.
if you're using a hand-held microphone, keep it close to your mouth at all times – imagine you're eating a rapidly melting ice-cream on a hot day

if you're using a fixed microphone, try to keep as near to it as possible, even when you're addressing someone in the audience

if you're using images or video in your presentation to convey essential information, make sure you also explain that information verbally

if you're doing a Q&A with the audience, then make sure the venue has a spare microphone for questioners to use – if there is no microphone or if the questioner doesn't speak clearly into it, then make sure you repeat the question into your microphone
Do you have any tips on making events and presentations accessible? Share them in the comments below.