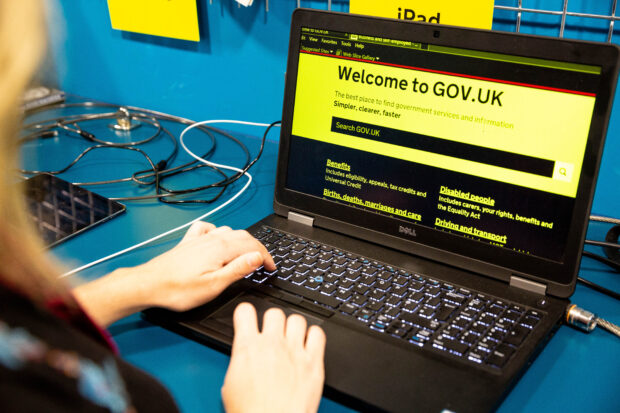 GDS's Accessibility Empathy Lab is open to anyone from the public sector. Since we blogged about the lab, we've seen a huge increase in visitors coming in to use it as an assistive technology space.
We know that some public sector organisations, especially local government, can struggle to get access to assistive technologies. There can be financial barriers to testing and it can seem overwhelming.
By coming into the lab people not only see and test the technologies, but also learn what testing they can do in their own workspaces for free.
Here's some advice on what free assistive technology tools are available. Testing on these technologies does not replace an accessibility audit, but by testing early on you can spot potential issues, improve your service and save money.  
Service Manual recommendations
In the Service Manual we require that central government, or a supplier doing its audit, tests in the most common assistive technologies our users use:

JAWS - a screen reader for Windows

ZoomText - a screen magnifier for Windows

Dragon - a speech recognition tool for Windows and Mac

NVDA - a screen reader for Windows, free and open source

VoiceOver - a screen reader which comes as standard with Mac/iOS
The first 3 tools can each cost up to £1,000. But there are free alternatives if you are not able to use them because, for example, they are too expensive or you do not have the required operating system.
Alternatives for JAWS
JAWS is by far the most popular screen reader, but you can do initial testing in other screen readers instead.
NVDA on Windows
NVDA is very similar to JAWS, they even share most of their shortcuts. The main difference between them - apart from cost - is JAWS tries to compensate for badly coded websites by trying to fix things for their users. That makes it more helpful for users. However, NVDA can be more useful for testing because it does not try and fix mistakes.
Windows has its own built-in screen reader called Narrator. But we've found not many screen reader users are using it and NVDA is much more popular. If you cannot install NVDA, try Narrator.
VoiceOver on iOS devices
VoiceOver is integrated into all Apple devices and is used by a lot by screen reader users.
Using a screen reader with a touchscreen is a very different experience and many people find it more intuitive. The same is mostly true for Android devices and its screen reader TalkBack.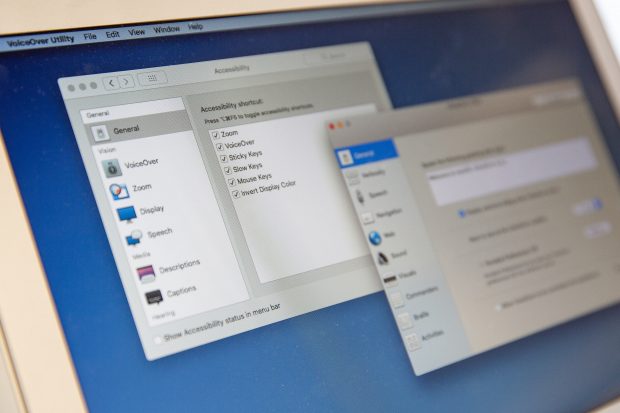 VoiceOver on Mac
VoiceOver is also available on Mac, but be aware the desktop version is not used as much by screen reader users. You should only test in Safari and not in Chrome.
NVDA via a Virtual Machine (VM) on Mac
An alternative to VoiceOver is using NVDA via a VM on a Mac. A VM allows you to run software on another operating system it would not usually run on, for example running Windows 10 on a Mac.
We recommend using NVDA on a Mac this way, rather than VoiceOver, if you have the choice.
Alternatives for ZoomText
ZoomText can magnify the screen up to 60x and has extra features, meeting a lot of needs that built in tools do not meet.
But issues - like not being able to read content easily or being disoriented by layout changes - which can be detected in 60x magnification can also be detected at a lower magnification.
Magnifier on Windows
Magnifier comes as standard with Windows and can magnify the screen up to 16x on Windows 10. It is perfectly fine for testing and acts as a good enough alternative.
Zoom on Mac
Apple Zoom is Apple's native magnifier. Its magnification level is 40x, coming quite close to ZoomText's level.
Alternatives for Dragon
Dragon gives the user high levels of accuracy, but for testing you only need to know whether you can interact with the site. For most services, this is the ability to fill in forms and follow hyperlinks.
Speech Recognition on Windows
Windows comes with its own speech recognition tool. It's quite similar to Dragon and in broad terms, the same problems which Dragon would pick up - like not being able to click a link or type into a form field - would also be picked up by the native Windows tool.
Dictation on Mac
Macs come with a native speech recognition tool, but unfortunately Apple Dictation is misnamed and well hidden. Although it's called 'Dictation', you can actually do much more with it than just dictation and use it the same way as Dragon or Windows Speech Recognition when you have "enhanced dictation" enabled.
Although iOS also has Apple Dictation, it only works for pure dictation as enhanced dictation is only available on macOS.
As with VoiceOver, you should use Dictation with Safari.
Explore your system settings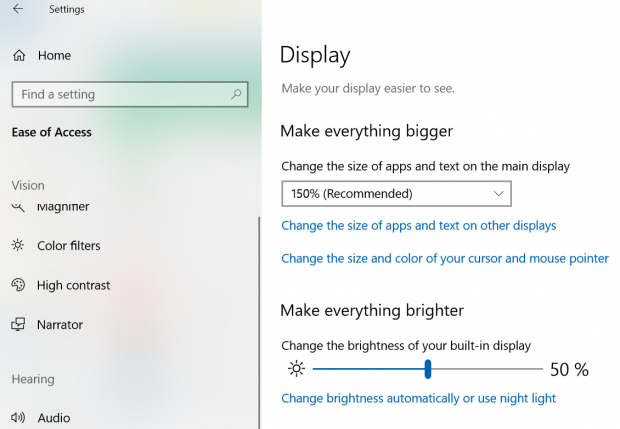 Most people do not know what powerful assistive technology is included in the systems they already use. I've even met lots of accessibility experts who do not know the full extent of what's available.
I highly recommend looking for accessibility settings in whichever system you use and try them out. You will be amazed at what's available for free and what can be done.
You can find them quite easily:
Windows 10: Start > Settings > Ease of Access
macOS: System Preferences > Accessibility
iOS: Settings > General > Accessibility
Android: Settings > Accessibility
Helpful resources
Many people do not know how to use assistive technology and while some tools are quite intuitive, others need instructions. Here are some cheat sheets that will help you with that:
It can also be helpful to simulate visual impairments when testing. Some can be simulated with Chrome extension Funkify that not only simulates various visual impairments, but also dyslexia, motor impairments and even an attempt at cognitive impairments.
Summary of alternatives
Below is the most minimal set of assistive technologies for either Windows or Mac.
| | | |
| --- | --- | --- |
| | Windows | Mac |
| Screen reader | NVDA | Ideally NVDA in a VM, but otherwise VoiceOver |
| Magnification | Windows Magnifier | Apple Zoom |
| Voice Control | Windows Speech Recognition | Apple Dictation |
In addition, test in any mobile screen reader you can get your hands on - ideally VoiceOver on iOS (or a cheaper iPod touch) but TalkBack on Android will also work.
These are some of the alternative tools we know work for our users. We're always keen to learn more at GDS, so if there are any other tools you find helpful please let us know in the comments.