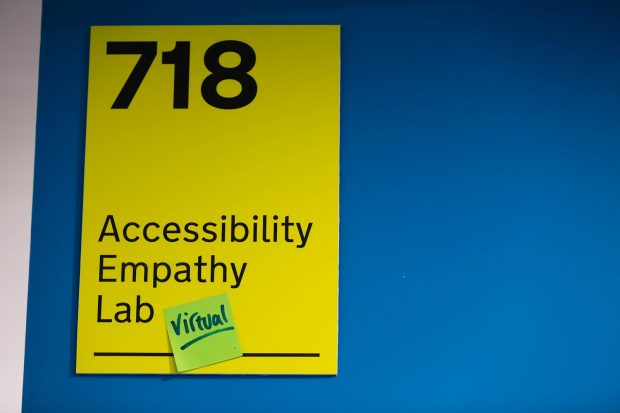 Today is World Usability Day. This day is commemorated across the public sector and in businesses, as it aims to ensure that the important services and products which people use day to day are easier to access and simpler to use.
Usability resonates with the Government Digital Service (GDS), as our work is guided by the Government Design Principles. The sixth principle is "This is for everyone," meaning that everything we build aims to be as inclusive as possible to create a user journey with as few obstacles as possible.
We are also the monitoring and reporting body for the Public Sector (Website and Mobile Applications) (No.2) Accessibility Regulations - or accessibility regulations for short. We've also been supporting public sector organisations to make sure their websites and apps meet accessibility requirements since the regulations were announced in 2018.
World Usability Day is about celebrating the strides that have been made in creating usable products and educating as many people as possible about how usability impacts our daily lives. To play our part, we have our own accessibility empathy lab, and as many people are working remotely now, it's become a virtual experience.
The GDS accessibility empathy lab
To help raise awareness of the barriers people face and the ways that assistive technology and good design help overcome them, we set up an accessibility empathy lab at GDS, which is open to any government or public sector employee.
The lab began in 2017 and continues to be updated with the latest technology. In the lab there are different devices with various assistive technologies, posters and information sheets. With this equipment you can test out the hardware and software, and learn more about what you can do to ensure your products are accessible.
The GDS accessibility empathy lab has become a key tool for government and the public sector and serves different purposes:
raising awareness: we host regular introductions to the accessibility empathy lab, for example
building empathy: we support this through opportunities such as persona testing
compatibility testing: though this is impacted by remote working, usually anyone in the office can use the assistive technology in the lab to carry this out
To find out more you can read this previous blog post about the GDS accessibility empathy lab.
Running virtual introductions to the lab
We used to run introduction sessions twice a week. Any public sector body who was interested had to book a session for up to 8 people and then come into the office. Due to the need to work remotely, we have moved a lot of our work online.
GDS began running monthly remote sessions on 6 May 2020. Usually between 20 and 50 people attend, and we run the sessions via video conferencing software.
The virtual sessions are very similar to sessions in the physical space. They allow people to see and hear the assistive technology tools in action. They are also used to show accessibility personas demonstrating different ways that users can be impacted, and how users might use tools or settings to help.
The biggest difference to being in the physical space is that people cannot use any of the tools in the lab after the introduction. But during the introduction you will learn how to test with the tools you already have. We're currently trialling a service which lets you log into various remote computers already set up with all kinds of assistive technology, and continue to iterate our approach.
Moving the persona testing online
One activity we do in GDS's accessibility empathy lab is persona testing. A whole team would carry out tasks on their own service through the eyes of different personas with access needs. Our persona setup has assistive technologies for each persona and simulations of their condition. That helps teams understand accessibility issues in their services better.
When we ran these persona testing sessions in the lab at GDS, they were always well received, so we wanted to move them online. We did this by creating Chrome browser profiles and letting team members share access to them. We ran the first session on 3 April 2020 and a handful more since then, and it worked even better remotely.
Responses from attendees
Our first session back in May was quite small, as we wanted to test how it would work. Learning from the positive feedback that we received, we then opened them up to everyone.
Here are some of the responses we received:
"I've discussed the user personas with a few people in my department since the meeting, and there is some enthusiasm to use them for our own internal training. Also, I learned a lot about the technology available, and have felt encouraged to try out more of the accessibility tools on my own devices."
"I enjoyed the run through of the different personas. Besides being an interesting insight into accessibility needs beyond low hanging fruit like screen reader users, I think it's really cool that we've invested time into building this lab and thinking in a very detailed way about different user needs."
Making government work for everyone
It is important to provide equal access and equal opportunity for everyone. An accessible website helps all to participate more actively in society. Occasions like World Usability Day highlight the importance of accessibility, and the growing need for technology to keep up with the accessibility needs of our users.
How to join a virtual introduction session
The next session will take place on 24 November 2020. We publish upcoming sessions in our public calendar. You will find instructions on how to join the sessions there. If you have trouble accessing that calendar, send an email to accessibility@digital.cabinet-office.gov.uk and we can send you the next dates and details.